041 604 4420
What We Do
---
METERBOX LOCK secure meter boxes of private and domestic properties by installing an approved size meter box viewing window with an individual key. Our home security system prevents a gas or electric meter box from being opened and tampered with by potential intruders. The meter reader will have a master key and the tenant, property manager or owner has the only other key to the box. Check out our meter box product range.
View All Services
Why Lock My Meter Box?
---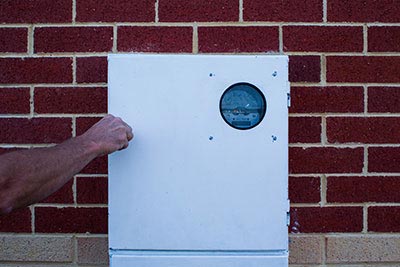 Residential homes that wish to protect their privacy and prevent a burglary can do this effectively by locking their meter boxes.
If your power is disrupted for any period of time it will lead to all your frozen goods going off and refrigerated items going bad as well. Imagine coming back from a Bali holiday to discover your freezer is a half frozen; stinky mess and you won't even want to open the fridge. Yuk! Alternatively, if your gas supply is turned off it will necessitate relighting of your hot water system, as well as purging the air that now would be in your gas pipes from the pilot light at your hot water system going out. Oxygen is drawn in through back pressure and is mixed with your actual gas. Only a qualified gas fitter will know how to remove the air and reignite your pilot light for your hot water system. Criminal offenders with a sole intent to burgle your property will gauge whether your home or not by switching off your gas or electricity supplies. Offenders then wait for the homeowner to come out and check the meter box. If no one comes out it signals the home is ripe for the picking. Use Meter box Lock to install an approved viewing window and a lock that's master keyed to Western Australian service providers. They are Western Power, Synergy, ATCO Gas and the Water Corp. Meter box security is the first step to prevent becoming another crime statistic. Mob 0416044420.
If you need a meter box in Perth, contact us today!
Read More
Reviews
---
Have dealt with Shaun previously with some business enquiries, very personable and passionate about home utility security.
Meterboxlock was fast and efficient. I had locks put on my gas and electricity meter boxes and would recommend Shaun to my friends as he was on time as planned and did a great job.
Shaun did an amazing job! Timely, reliable, and friendly but professional. 10/10 would recommend.
Shaun was very professional and did a fantastic job.
Great quick service and final product is better than any other form of METERBOXLOCK window available.
Great job, would use again
Good job. Highly recommend.
Meterbox Lock Works in Compliance with the Following Companies
Below Are A Few FAQs We Get A Lot:
A licensed gas fitter needs to replace a meterbox.
A gas or electric meter box can be bought from a trade supplier, but in most cases your licensed gas fitter or electrician will supply one when they fit it.
Yes, they can be relocated only by a licensed tradesperson and they must adhere to the local building legislation on where and how they are located to comply with regulations.
A meter box is always located at the front of a property in an accessible position so your usage can be read by a meter reader. Usually, they are mounted on a solid wall above the ground and inline with the ground services entering a property.
In each state or country, a meter box lock must be an approved type that can be opened if needed by your meter reader. Even though the meter reader holds a master key that will unlock all meter box locks the individual key for your meter box will not open another lock the same So a meter box key is master keyed to be your meter readers key, but your individual key is keyed to only unlock your meter box lock.